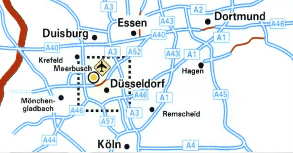 From the A52 Mönchengladbach
Follow the A52 until the "Meerbusch-Büderich/Neuss" exit.
*Join the B9 towards Meerbusch.
Turn left at the fourth set of traffic light into the road "Im Bachgrund".
Take the second right, into the road "Am Meerkamp".
You can find the KHW-House/KHW-Group on the left at the end of the road.
From the A46 Wuppertal and A59 Leverkusen
Follow both motorways towards Düsseldorf/Neuss.
Join the A57 towards Krefeld.
At the "Kreuz Kaarst" junction join th A52 towards Meerbusch and use the "Meerbusch-Büderich/Neuss" exit.
Follow as from "From the A52 Mönschengladbach" from.*
From the A3 Duisburg
Follow the A3 towards Köln and join the A52 at the "Kreuz Breitscheid" junction.
Follow the A52 to the conclusion and join the B1.
Follow the B1 and join the B7 until the "Meerbusch-Büderich/Neuss" exit.
Follow as from "From the A52 Mönchengladbach" from.*
From Düsseldorf Airport
Leave the airport towards A44 Lohausen.
Leave the A44 at the next exit and follow signs for B8 towards Düsseldorf.
Join the B7 until the "Meerbusch-Büderich/Neuss" exit.
Follow as from "From the A52 Mönchengladbach" from.*